Izunna Okafor, a multiple award-winning author, is the National Secretary of the Society of Young Nigerian Writers (SYNW) and the Anambra Coordinator which organizes the annual Day Celebration.
In this interview with Iwindoyin Opelegbemi, the literary enthusiast speaks on the forthcoming edition of the celebration of the literary exploits of the late Prof. Chinua Achebe, Igbo Culture, as well as a promotion of his works after his demise.

1. This year's edition of the Chinua Achebe Day will be coming up this Friday, how prepared are you now for the event?

Ehm, I can say we are getting ready. I and my team have been working harder to put things in order. You know the event is multi-facet. It involves several things, which include: lectures in memory of Achebe, dramatizing of Achebe's selected books, recitation/­presentation of poems and other literary works written in the memory of Achebe, essay writing competition based on Achebe's works and life (for all participating secondary schools), open microphone, spoken word poetry, unveiling and launching of the third Achebe Poetry/Essay Anthology, dancing, entertainment among other literary packages slated for the day. So in planning each of these activities, I can say we have recorded a gargantuan measure of success.
Our guests' speakers, the students and our participants have already been served with reminders. We have received free copies of books donated by some young writers in Anambra State, to be distributed to students that day at the event. So we are moving forward and getting ready for that day, despite the financial constraints, which attempt to impede the preparation. Surely, we are getting ready, and we believe it will all end in praises.

2. The forthcoming event will be the 3rd edition, have you been able to achieve your objectives of coming up with the Chinua Achebe Day in the last 3 years?
Thank you for the question. We have several defined objectives we intend to achieve through this event, but there are basically six that are cynosural. They are:
To remember, honour and celebrate the great literary crackerjack -- Achebe (who made us proud, died since March 21st March 2013, and seems to have been forgotten just like a few, with no single monument in his name).

To annually produce and publish poetry/essay anthology in memory of Late Prof. Chinua Achebe, through calling for and securing of quality poems/essays from writers across the world. All written in memory of Achebe.

To use Achebe's life and personality as ideal, to raise new amazing writers of our own present time.

To promote, encourage and reward creative writing and reading culture among our youths and students.

To discover and harness the hidden amazing talents among our young ones, in the creative field.

To present writers and readers (intellectuals) as the elixirs to the country's ailments, and so on.
Looking at all these, I can say we have drawn near to some, some have been achieved, while some are in fact, continual in nature. We have been celebrating Achebe since 2016, we have published two anthologies in his memory, and the third one will be unveiled in this third edition of the event coming up on 16th November, and so many other achievements that have been recorded.
We also hope that in no distant time, with the dust raised by this event, a gigantic structure or more will also sprout, apologizing for coming late, and introducing itself to the entire world as having been sent on a mission to immortalize Achebe.


3. How will you access the promotion of Achebe's books through the Chinua Achebe event?
Achebe's works generally as a writer have referentially been a talk of the moment in each edition of this literary festival, especially with respect to what is currently obtainable in our country today. That was why I said earlier that we one of our pursuits in this event is to present writers and readers (intellectuals) as the elixirs to the country's ailments. So through the event, we have not only been promoting Achebe, but his works have also been a focus of attention.

4. Apart from the event, in what other ways have you been promoting Chinua Achebe?

As a forum that unites young writers, we do have monthly reading, and Achebe's works and writing style have also been the most used standard in each of our analysis. Aside these, we have also been in the forefront on the call to immortalize Achebe. In fact, I can say that we are Achebe's apologists in all ramifications, even outside the literary bracket.
Following recent auditions in Lagos, Owerri and Abuja, Nigeria's foremost and most prestigious beauty pageant, Miss Nigeria, unveiled the 18 finalists contending for the highly coveted title of Miss Nigeria 2018 at the 7 Square Restaurant in Victoria Island, Lagos on Monday 12th November 2018.
Among the celebrities and influencers present at the brunch to witness the unveiling were Mavin Records boss and veteran in the Nigerian Music Industry, Don Jazzy, popular songwriter and performing artiste, Timi Dakolo, top actor, Gideon Okeke, the Country Director of WEConnect International Shade Ladipo, the creative director of Miss Nigeria, Ezinne Akudo Anyaoha, the reigning Miss Nigeria, Mildred Ehiguese, leading Nigerian influencer and entrepreneur, Laura Ikeji, popular international model and entrepreneur, Aisha Bello, among others.
The guests were treated to sumptuous meals and drinks at the restaurant amid lots of fun, glitz and glamour. The 18 finalists had an interactive session with the guests where they shared their goals, aspirations and plans if they emerged victoriously and won the prestigious Miss Nigeria title.
Speaking about the unveiling brunch and the selection of the 18 finalists, the Project Coordinator of Miss Nigeria 2018, Chioma Nwigwe said;
"This year's selection though gruelling has been very rewarding. Beyond their looks, every single one of these incredible ladies brings something unique to the table and we can't wait to see which of them wins the crown."
The Miss Nigeria Organisation selected the 18 finalists after various screening processes from 40 contestants that were pre-selected from the auditions held nationwide in Lagos (West), Owerri (East) and Abuja (North) in October. The celebrities and influencers present commended the efforts of the organisation in maintaining the quality of queens that have been produced by the organisation since inception.
The guests were impressed by the 18 finalists who were articulate and precise about their mission to stand by the great efforts of the Miss Nigeria organisation in empowering women beyond beauty.
The Grand Finale of Miss Nigeria 2018 will be held at the Eko Convention Centre of the Eko Hotels and Suites on 25th November 2018.
➖
Follow our conversations on Instagram @missnigeriaorg and via our hashtags #MissNigeria and #MissNigeria2018
➖
For tickets enquiries, please call Yvonne on 08059744300
The Academic Staff Union of Universities (ASUU), has stated that the union is ready to negotiate with the government toward ending its one-week old industrial action. This was disclosed by the President of the union Prof. Biodun Ogunyemi, who was a guest on TVC News Breakfast show on Tuesday. He frowned at the attitude of the FG towards the demands of the lecturers.
According to him, the letters sent to the Federal Government through the ministries of education and Labour since November 5th notifying them of the strike is yet to be replied.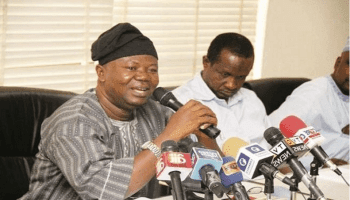 "We wrote to inform the ministries that we had resumed our strike. We told them that we had resumed the strike we suspended in Sept. 2017 because government failed to implement agreements we signed. "The ministries signed to acknowledge receipt of the copies we gave them, but none has written a reply to us," he said.
Ogunyemi further stated that it is quite surprising that observed that the federal government, which had consistently allocated seven percent to education in the last two years, suddenly woke up from slumber and announced a state of emergency in the education sector and promised to allocate 15 percent of its budget to the sector. He said that the union finds this unbelievable and deceitful. "We feel that the `sudden' promise has more to do with the fact that we are in an election year," he emphasized.
He alleged that the ruling class in Nigeria had no concern for the education of the poor.
In a world that is increasingly connected by and dependent upon technology, digitization is an important way for organizations to remain modern and relevant. Taking advantage of the global digital transformation allows companies in both the business-to-business (B2B) and business-to-consumer (B2C) spheres to enhance their performance across key operational areas and create new value for their customers.
➖
Refocus attention on customer
The digital age has granted consumers a vast new world of products and services, as well as a host of new tools they can use to research an item before making a purchase. Online review aggregators, consumer forums, and even rating systems on retail websites have empowered consumers to make their voices heard.
For the past 6 years, Jumia has served her customers. The eCommerce site started as a site where you can conveniently shop. But today, you can book your hotel and flight, search for services and order food. This is because it is out to win the love of her customers which is what it has been doing all through these years.
➖
Provide avenues to for customer engagement
Just as technological developments have made it easier for consumers to share their preferences and experiences, digitization enables businesses to connect with customers in a more meaningful way. One major way is via social media (Facebook, Twitter & Instagram). On all these major platforms, you will find Jumia handles interacting and engaging customers not only helping them address inquiries and complaints but also gathering and aggregating constructive feedback.
➖
Expand company identity
Building a professional, modern-looking website is an integral part of building an effective online presence, and this website is often a cornerstone of digitization. Creating a website and other elements of your company's digital identity can also strengthen and evolve your business' identity. As you consider how to present your brand to a vast online audience, you'll likely take into consideration your company values and goals. And with the added transparency of the digital age, you can expect customers to hold you to these ideals.
➖
Offer convenience for consumers
To add value to your business, you have to make your services convenient for your customers. Your website and the mobile app must be easy to navigate. For Jumia, it is very easy to order or book whatever service you want. You can simply search for whatever you want and from the available results, select the one that interests you.
➖
Provide enhanced data management
In addition to streamlining countless business and industrial processes, digitization also enhances business' ability to collect data about their operations and analyze it to improve their business processes. Data from enterprise resource planning tools, customer relationship management tools, and even social media and e-commerce platforms can combine to offer new insights into the strengths and weaknesses of your newly digitized company.
Akhigbe Omoye Blessing a.k.a Calis is a Nigerian singer and songwriter from Edo state. She releases her official single titled "WITHOUT THE MONEY" featuring OG Naira.
The song was produced by Nos and the Video was directed by Ayo Ekunz Visuals.
DOWNLOAD MUSIC
WATCH VIDEO
The Chief Executive Officer of Jumia Nigeria, Mrs Juliet Anammah has described the recent tripartite motion by the Consumer Protection Council (CPC), the Standard Organisation of Nigeria (SON), and the Nigeria Custom Service (NCS) on the urgent need for government to develop a framework to regulate the activities of eCommerce platforms in Nigeria, as a round peg in a round hole.
She assured the government that Jumia will continue to offer necessary supports to ensure such framework is developed with the purpose of protecting unsuspecting shoppers online.
Anammah who made the disclosure in an interview with the Lagos studio of the China Global Television Network (CGTN), said:
"we're committed to helping government agencies understand how ecommerce operates. Even though it's a section of retail, it is still a sub-sector of the total retail market. Because it is digital, there are some differentiations; we're committed to helping government understand how that operates, how it has advanced in other countries, and what is coming ahead, because regulation isn't just about constricting, it's about supporting."
"So the government wants to support it so it can grow in a way that is positive for the economy and the consumers. We share a lot of information, we've had sessions with CPC, we have an ongoing collaboration with SON, and many other agencies just to make sure we are constantly giving as much information as possible to assist them in shaping the right policies for the industry.
In some respects also, we have participated where there are some legal frameworks to give our opinion on what we think based on what we see happen in other global environments relevant to e-commerce and Nigeria. We give recommendations and engage one-to-one with relevant agencies," she added.
The motion to develop a framework for regulating eCommerce in Nigeria was moved at a stakeholders' forum in Lagos, with the theme: "The Role of Standards and Quality Regulation in Electronic Commerce," organized by the Standard Organisation of Nigeria (SON).
"The need for a regulatory framework was borne from the need to improve the level of customers' trust, and ensure quality for the money spent in the sub-sector," said, the Director-General of SON, Chief Osita Aboloma.
It is worthy of note to mention that Nigeria is not the only country contemplating putting in place a framework for regulating the over US$13 billion worth industry. The government of India, for instance, is planning to bring in an e-commerce law and a sector regulator to effectively deal with all aspects of online retail. Some of the key provisions of the draft policy include: large eCommerce firms should phase out discounts within two years; eCommerce companies have to store consumer data within India; independent eCommerce regulator will deal with consumer complaints, compliance with FDI caps; and tax incentives for data localization and infrastructure status for data centres.
Although some of the salient features of the India e-commerce regulatory framework might not be directly applicable to Nigeria, it is expected that the government agencies vested with the responsibility of developing this framework should review countries with existing regulatory framework and rely on the recommendations of local eCommerce operators, such as Jumia.
This na awa Exclusive Interview wit Mr Peter Obi, di running mate to the Peoples Democratic Party presidential candidate Atiku Abubakar in the 2019 election, On top the show way we call "The Sheet Political", Mr Peter Obi tok many many tinz way concern awa kontri economy and leadership. Oya Enjoy, share am and abeg tell us wetin u tink.
Mr Peter Obi na Naija politician and him bi former governor of Anambra State way serve from 17 March 2006 to 2 November 2006, when dem impeach am and from 9 February 2007 to 29 May 2007 after dem cancel di impeachment.
Na graduate of both international and national institutions like the Lagos Business School; Harvard Business School; London School of Economics; Columbia Business School; Institute of Management, Switzerland; Kellogg Graduate School; Oxford University and Cambridge University.
E get one time sef way him bi de Presidential Economic Management Team; Vice-Chairman, Nigeria Governors' Forum; Chairman, South-East Governors' Forum, and the Governor of Anambra State. Oga Peter Obi na correct professional way don leave good examples for pipo to folo across di corporate world.
Na him bi di most humble Naija politician? Well, make you bi di judge as you WATCH am tok about how;
NB: Dis interview with Mr Peter Obi happen before dem announce am as running mate to Atiku Abubakar.
As E Dey Go: We enta street go ask Lagosians dis kwetion and deir reply dey very interesting.
"Wetin your bank don do for you wey you no fit forget?"
Click Here make you watch am.
"Nairametrics Money" way come with deep deep infomate about wetin dey happen for we stock market and awa economic sector, WATCH how Dr Ola Brown, Tunji Andrews and Ugo Obi-Chukwu take scatter mata on top;
Check out previous episodes of "The Sheet Political" like Festus Keyamo, Kingsley Moghalu and all di Ogbonge Videos on top YouTube.com/TheSheetTV and you even fit folo us on our social media channels. Make u enjoy Ur day o!!!
How To Be Single
Thursday, 15 November at 7 pm on M-Net Movies Smile
Watch a group of young adults navigates love and relationships in New York City.
The Honeymooners
Friday, 16 November at 8 pm on 1Magic
Working class New York bus driver Ralph Kramden is always coming up with get-rich-quick schemes for him and his best friend, Ed Norton, who's always around to help him get in (and out of) trouble.
Puppy Dog Pals
Weekdays at 4:30 pm on Disney Junior
Fun-loving puppy brothers Bingo and Rolly go on adventures throughout their neighbourhood and around the world to help quench their thrill-seeking appetites.
Cloudy with a chance of meatballs
Weekdays at 4:55 pm on Cartoon Network
What will Flint's next greatest invention be? Watch the premiere of season two of Cloudy with a Chance of Meatballs this November on Cartoon Network to find out! Science adds a crazy and dramatic new twist to the average high school experience! Flint discovers a cool new element while helping Brent with a project, and even manages to invent the machine to bring imaginary friends into the real world! You won't want to miss this explosive new season!
Henry Danger
Weekdays at 5:55 pm on Nickelodeon
Captain Man and Kid Danger get jealous when a new crimefighting team emerges in Swellview. Later, Ray runs into an ex-girlfriend and tries to impress her by pretending that Henry, Charlotte, and Jasper are his children.
Blaze and The Monster Machine
Weekdays at 3:40 pm on Nick JR.
AJ is an 8-year-old techie who drives monster-truck Blaze, the top racer in Axle City. The two go on adventures that have them taking on problems involving science and math. Many predicaments they face are caused by Blaze's rival, Crusher, a tractor-trailer that will do anything to beat other vehicles to the finish line.
This year's edition of the biggest event on Africa's drinks calendar is fast approaching as the International Drinks Festival holds from 29th November to 2nd December. Riding on the success of the maiden edition, this 2018 edition promises to be all that drinks and food lovers ever dreamed of and so much more!
A host of activities have been lined up to treat attendees to an amazing time at the prestigious Federal Palace Hotel in the heart of Victoria Island, Lagos, various as the walk into a heavenly experience of the world of drinks.
The World of Drinks
The world of drinks gives attendees familiarity with various wine brands across the world as international and local winemakers will be present to exhibit wines in their various kinds.
In the world of drinks, there is room for wine tasting so intending attendees are advised to show up ready to drink to their fullest and savour the rich tastes of exotic wines from the best wineries around the world.
The world of drinks will afford consumers and producers of wines, the opportunity to interact. Producers and brand owners will have the window to educate consumers on the dynamics and processes of producing these wines right from the planting stage through to the process of production down to distribution and purchase. Consumers will also get to know the content of each kind of wine as well as the medical implications of wine consumption.
The festivals will also allow attendees to enjoy, explore and experience new brands giving the brands the opportunity to acquire new brand loyalists and enthusiasts. Attending the International Drinks Festival can be said to be mutually beneficial to brand owners, producers, distributors, consumers, enthusiasts and all major players in the drinks industry value chain.
Also at the International Drinks Festival, global mixologists will be on ground to treat attendees to eclectic and exquisite choices of cocktails. The world of drinks would also allow for honest reviews of consumers about the brands on exhibitions.
The International Drinks Festival world of drinks is a world of its own beckoning on drink enthusiast and love to walk in for a mind-blowing experience!
➖
Follow conversations on social media via #DrinksFestLagos
➖
Follow us on Instagram @drinkfestlagos
Harvest Favour, after a year of celebrating the glorious tour of her late father (Archbishop (Prof.) David Eberechukwu) with a tribute single she titled "FATHER'S LOVE", is now set to break out..
"NOTHING WITHOUT YOU" is Harvest Favour's private love conversation with her maker showing a grateful and surrendered heart to Him and His will.
A song birthed from a deep place of brokenness and worship while she was in Nigerian Law School, Enugu Campus some years back. It's one of the tracks of her TICK-TOCK album. Deep in intent yet romantic in delivery with a vivacious beat presentation perfect to convey the mood.
Harvest Favour has modestly identified her call for inspiration; raft in deep emotion, purity of intent and clarity of reason.
Harvfy as she's fondly called, a Barrister also, is remarkably an old hand in the exercise of her larynx with near-weekly exposure to a large following. A track effort in her offing with Nhyero's contribution as principal album producer completes the body of work.
This song was significantly released on the 13th day of November 2018 in celebration of her birthday.
You can only be blessed listening to this song and worshipping along.
Your mercies are new every morning
I'm soaring high like the eagles
Where would I be if not for You
It's only because of your grace 2X
Your mercies are new every morning
I'm soaring high like the eagles
Where would I be if not for You
(It's only because of your grace) 2X
Your mercies are new every morning
I'm soaring high like the eagles
Where would I be if not for You
Oh oh oh It's only because of your grace
All I see is You (Nobody Nobody yeah)
(Everybody lift your voice, say!)
(I'm nothing without You)
(I'm nothing without You)
(I'm nothing without You)
(I'm nothing without You)
You said You'll never leave me
(I'm nothing without You)
Nor forsake me, never let me down
(I'm nothing without You)
(I'm nothing without You)
(I'm nothing without You)
(I'm nothing without You)
In You I move and have my being
(I'm nothing without You)
I'll be so lost without You God
(I'm nothing without You)
(I'm nothing without You)
I can't even breathe, I can't even talk
(I'm nothing without You)
I can't even walk without You
(I'm nothing without You)
You said come unto me oh ye that labor
(I'm nothing without You)
And are heavy ladened, I I I
(I'm nothing without You)
Yeah yeah yeah yeah yeah yeah
I surrender yeah yeah yeah yeah yeah yeah
(Ahhh ahhhh ahhhh ahhhh uhhhhh)
Yeah Yeah.... uhh Lord Lord.... Yeah...
All I feel.. Yes its you Jesus!
I heard your mercies are new every morning
All I need all I need all I need is You..
All I feel... Hmm.. is You..