The new playing kits for the Nigeria National Team in
Russia 2018 World Cup Jersey
have been unveiled and
being modeled in the above picture by Arsenal's Alex Iwobi has been rated number 1 amongst the 20 countries out of the 32 participating countries that have so far unveiled theirs.
The #SuperEagles Jersey came tops in the World Cup 2018 Kit Power Ranking published by UK's Daily Mirror newspaper.
It beat jerseys of countries such as England, Argentina, defending champions Germany, Peru, Spain, Japan, Russia, Morocco, Belgium, Colombia, hosts Russia, France, Portugal, Sweden, Mexico, Uruguay, Egypt, Croatia, and Brazil etc.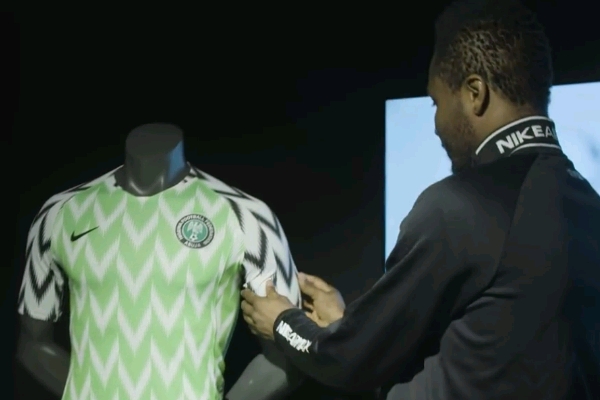 Nike have used their official YouTube channel to serve the public a glimpse of the new Nigeria jersey designs for the Super Eagles' Russia 2018 World Cup campaign.
The designs bring back the nostalgia patterned Adidas jersey the Super Eagles wore at the 1994 Africa Cup of Nations in Tunisia and their first World Cup in the United States of America that same year.
The away kit has the shirt with the predominantly light green background with bold white V-shaped patterns drawn on it.
The sleeves have white underneath black patterns. The shorts are plain white.
The home shirt is all-green, this one darker than usual.
While reviewing the designs, Mikel said: "I can see the players going crazy over this one."
Ndidi also sounded excited, adding "This is cultural" in apparent reference to the patterned away kit.
"This is different, you know," Iwobi added, while Iheanacho seemed happy with all the designs.
Meanwhile, it's not by having fancy football jerseys. The hard work is out there on the pitch for 90 minutes. Come on Super Eagles.